Sound Effects for Movie and Film. HOME


---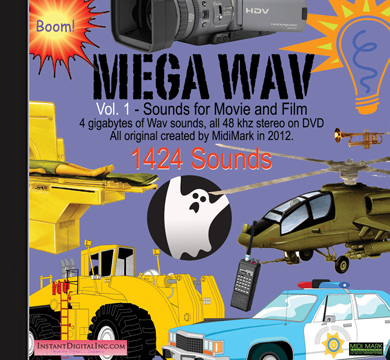 BRAND NEW FORMAT FOR 2013!!!!
Mega Wav Vol. 1 on DVD – < Click to purchase dvd. >
Mega Wav Vol. 1 download – < Click to purchase download. >
Just a sampling of what you get! 4 gigs – 1424 wav files 48 khz stereo for your Movie Productions.
Detail Sound List - Buy just the section you want.


Demo

Folder  		Sounds	Notes
Aircraft   		14		Airplane, blimp, Helicopter, UFO, Jet
Alarm Beeps 	132		Alarm, CB radio, buzzer, metal detector, static, motion, home alarm, code entry
Animals	   	71		Dog bark, goose, owl, wood pecker, seagull, cat, crickets, eagle hawk
Atmosphere	25		City scape, dog barking, seagulls, rain drops, thunder, wind, apartment building
Bathroom		8		Metal sink, toilet flush, urinal
Event			27		Funny party clown whistle, mic check, microphone feedback
Fight			70		Lazars, man choking, coughing, scream, stab, punch, thrust, bone break crack
Foley			131		Aztec dancers, boots walking, door close, drip blood, fart, walk dirt, grass
Glass			56		Plate glass window, TV break, glass bottle, pick up glass, glass debris
Horns			41		Horn hit, orchestra note, crowd large, orchestra tuning
Machines 1		98		Grinder, robotic arm, electric zap, static, plasma cutter, wire welder, cd printer
Machines 2		51		Impact wrench, machine shop, car window open, remove tire, air escaping 
Machines 3		81		Jack hammer, hydraulic lift, weed wackier, wood splitter, chain saw, compressor
Medical	     	20		EKG heart monitor, iv pump, fetal heart monitor, panel beeps
Metal 1	 	103		Metal showing, shovel hit, sword fight, wind chime, clank, hit, strike, large bang
Metal 2	 	58		Bending metal, dumpster hit, sewer lid, metal cap scrape, drop metal lid
Musical	 	40		Hall applause, bagpipe player, church music organ, mexican song, dark bells
Plastic	  	53		Ball drop, debris fall, rolling wheel, pull tape off, plastic bat hit, bounce pliers 
Rocks   		37		Rocks in bucket, dirt slide, hill slide, rocks bouncing, sand fall, hit asphalt
Scary			50		Flesh meat squish gore, metal door spring, crow, windy elevator, chair scratch
Trains		4		Freight train crossing, train horn, train loud and close pass by
Vehicles	  	101		Horn, peel out, burn rubber, earth mover, jeep, motorcycle, tire squeal, chirp
Vocals	  	51		New born baby cry, whimper, laughing, sucking bottle, testing, burp, 3 year old
Water		86		Water drop pond, faucet, splash, drain pipe, bubbles, dripping, gushing water, boil
Wood			16		Wood board hit, drops, snap wood, wood tear, wood move slide

Total sounds 	1424    	Sounds are in stereo wav format 48 khz.  For EZ use in movie editing programs.

©2012 midimark.com / instantdigitalinc.com   All 100% original field recordings by Midimark.
Purchaser has the right to use the sounds in movie, film and tv productions.  These may not be used to create sound libraries in part or whole with out the written consent of the copyright holder.



If you want a download product, please visit us on InstantDigitalinc.com

System requirements: Any program or computer that can load up stereo 48 khz wav sounds from DVD.

Price $59.00 LOWER PRICES - SEE ORDER SITE.
---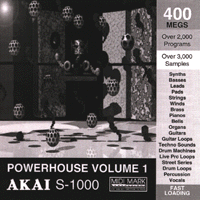 UK Sound Systemz -
Sound FX for movie and film productions.


Price $29.00 LOWER PRICES - SEE ORDER SITE.


---
Midi Mark Productions - P.O. Box 217 - Whittier, CA 90608 - USA
Cellphone 562-500-5981 Phone 562-365-1297 Fax 562-365-1298
HOME - REVIEWS - CDROM DRIVES - TOP OF PAGE - SECURE ORDER SITE - PDF FILES -