What are PDF files? PDF files are simple document files that you can use to print out manuals and catalogs. These files can be viewed and printed by a small program called Adobe Acrobat Reader vers. 4.05. You may already have it on your computer but if you don't, click below or go to Adobe and download the program for free.
Version 4.05 of Acrobat Reader is required to view/print these pdf files.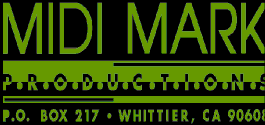 Orderform PD---

Roland Catalog---

Ensoniq Catalog---

Akai MPC Catalog---

<-- Click here to download Acrobat Reader 4.05 for Windows 95/98 now. (file size 5.6 megs)
Mac users visit Adobe.
updated 7/1/99. Mac users choose shrink to fit when printing.
updated 4/11/200. New Ensoniq PDF. - New Fax number in effect 4/18/2000 -
Order form Updated on December 2nd 2005 –Also Updated on Jan 1, 2006.