Ensoniq EPS 16+ Disks - 16 bit samples -
Compatible with EPS, EPS 16+, ASR-10, ASR-88, ASR-X (with 2.5 software)
TS-10, TS-12, K-2000 (ver. 2 software)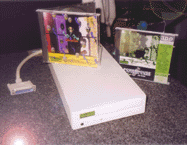 All of the sounds listed on this page are also available on one CD-ROM called "Powerhouse" Vol. 2
This 300 meg CD rom comes highly organized by sound type and a complete booklet listing. Price $199 U.S.
Lower prices!
---

Home ¥ Reviews ¥ Disk Prices ¥ Orderform ¥ goto eps List #1 ¥ Orderform ¥ goto eps List #3
Synths ¥ Bass ¥ Drums ¥ Drum Loops ¥ FX ¥ Guitars ¥ Vocals ¥ TB-303 ¥ House & Techno Sounds
---
Synths
disk #, disk title, (name of sounds on 3.5" disk)

374 Street Instruments (rap bass, jazz bass, JD800 rhodes, strang, 4 hypes, horn, echo wha)
382 Old School Synths 4 (grit lead, stereo fat synt, 6trk bell, analog hornz)
383 Old School Synths 5 (string 1, piano +, bass vl +, funky 1, awesom lead mmp)
384 Old School Synths 6 (bad bass, harp, pop organ, funky trumpt, solo violen)
385 Sequential 6 trk (techno grind, analog pipes, 6trk --- mmp, 6trk bass 1, wow pad 6t)
386 Sequential 6 trk #2 (lead, analog, sio, buzzer, holo, quip, hummer, lead org, hackle, electro)
391 SY85 (mega dist, broken frame, sci fi, bell, bbb, fm noise)
393 SY85 (sy85 kit, movie pad, krafting, synbass, hacksaw pad)
394 SY85 (evil ch, abyss, heavy saw, choir)
395 SY85 (aztek, ch choir, str rosin, lush, orchestra, syn string)
402 Choirs & Drums (Choir ah'hhs, godfather ah, Xfile lead, Stereo Choir, pno wha, X pin drums kik snr clap ride, house hit, 3 kik & snapper)
407 Rap Rohdes (Straight 2 U, Black chord, Viben move, Mysto whine, flangy city, plain road, smoove, mellow, punch road, smoof, tremelow rhods)
408 Old Skool Sounds (Dirty old lead, D50 organ, wiked flute, choir ah pad, fat orch loop, fem vopad, wrap my rhoad)
409 Old Skool Synths (Rezpad climb, clav 3, filter pad, filterstrings, marlbro strings, pluky 2, spin noise, george pno, power pack, fat talk lead)
410 Old Skool Synths (6 track flute, Sgt pep pipe, digi horns, angelic vox, pulsewidth 2)
411 Old Skool Synths (Flutey pose, Harpsicord, inter res syn, golliwog Jr., annaperc kit, meow, invlangorus, anna bass)
412 Old Skool Synths (Puc thudmon, perc noise, percwind, tribal mmp, alien, organ mix, grand brass, plucky-heaven)
413 Old Skool Synths (Alien wind, Gothic strings, funky res syn, areif, vocalings ld, saxydark lead, miridium fx, techno bass)
415 QR-10 Instruments (Sax, voices, synap bass, sa-s-strings, dark strings, orch hit, trumpet, mixed up syn, bell-pad QR, Xylo-craze)
416 QR-10 Instruments (organ 1, hammond organ, soft guitar, muted gtr, accsent bass, frettless, med synth)
417 Casio CZ-1000 (Brass ensemble 1, trumpet, X psolo violen, Elec piano, CZ organ, string ens+patch, flute, bass+perc)
418 Casio CZ-1000 (Brass ensemble 2, vibra phone, synth strings, fairy tail +, wheal, accordian, whistle, xylophone)
419 Casio CZ-1000 (Acid mmp, mo acid, hammond mmp, string ensmble, violen cz, trumpet 1000, brass ensmble)
483 Demented Wurlitzer (Rap wur-sure 1, 2, 2 stereo demented chords, single note, bronx style, treming wurli)
484 East Kost Wurlitzer (eerie & scary, wur pno mmp, midi-didle kord, -7 total snds-)
485 Hammond B-3 Organ (60's errie, sebastion organ, schaefer organ, wavey organ, fazey organ, 5 stops, doors tribute organ)
486 Hammond B-3 Organ 2 (Clean hammond, ronchy ham, perc ham sand, mellow ham, tight meat, go 2 church, weird ham, clicky ham bone)
487 Hammond B-3 Organ 3 (Mass organ, true click, 4 organs in 1, best organ, small click organ 36 blocks)
488 Lead Synths (Mini mutant, mini moog lead, tri lead, super jupiter whistle, TB303 mutant, VFX lead, small lead mmp)
489 Moog Opus 3 (Orchestra, rez high strings, rich strings, organ crank, willy organ, Opus brass, slow brass, trumpet)
492 Thick Pad's (Huge orchestra pad, thik-pad-inst, bell pad XR, Charmin puff, trumpet pad, heyanai pad, piano sting pad)
523 Juno 106 Lush Sounds Half rezo bs, unadulterd syn*, processed strings, friday the 13th, good day syn, velo-ana-juno, fazeing string
524 Juno 106 Lush Sounds 2 Thick chocolate strings, reverbed strings, alien dream, angel generation, jelly roll
529 OBX-A Synths 1 Fat shit, midi's obx-a, cosmic bells, alien drift, electric flute, drunk bellys
530 OBX-A Synths 2 Tuning strings, ramp string, 70's peace slide, clava-bong
531 OBX-A Synths 3 Analog trumpet, analog brass, rezination, techno-e, acoustic bass, harp
532 OBX-A Synths 4 Tinkle, vapor suck, grind strings, vibrent bell, obx melo lead, chill out, solient green 533 OBX-A Synths 5 Ambient horn, obxa runaway syn, hammond organ, growl bass, ice-caves
534 OBX-A Synths 6 China strings, detuned fat syn, shrumic intro, short clave ob
535 OBX-A Synths 7 Modesty pad, duotone lead, wavey fade organ, thoughtfull pad, flying voices
537 OBX-A Synths 9 Open it up, story bass, power synth obx, random mod jam
539 Proteus 2 R & B pad, gitano piano, bath bell thai, real-ish-strings, slow ahh pad
540 Proteus 3 Glocken speil, flange string, lush viels, darkend world, sand dune
541 Proteus 4 Beyond christmas, latin balinesia bell, bongo, congo, timbale, noha way!
542 Proteus 5 Exelectrik guitar, space bass, prot-rap bass, slap bass, stone bass
543 Proteus 6 French horn, brass v-fall, mythical string, baritone sax, miles trumpet, trombone
545 Proteus 8 Vibraphone, tiki bell, vapor rub, kyoto bell
546 Proteus 9 Modern guitar, thunder bass, minimoog bass, B3 proteus, phantazia bell, zoundstacks
547 DX7-TX #1 Rhodes piano, jazz guitar, electric bass, wood bass, electric organ, DX7 organ, pipe organ 1, 2.
548 DX7-TX #2 Harp 3, huff synth (flute), click organ 1, brite guitar, ghostie
549 DX7-TX #3 Soul bass, ocean waves, sax #2, bag pipe, pluck guitar, electro drum, syn bass #6, hard brass
550 DX7-TX #4 Electric piano #4, vibra trump 2, tube bell 2, mono sax, synth organ, electric organ #7, pluk bass
551 DX7-TX #5 Heifer, electric organ 1, upright piano, squeeze box
552 DX7-TX #6 Electric organ #3, clave #4, vibes #2, hit koto
553 DX7-TX #7 Hard tip piano, perc piano, wood pf, electric piano strings, elec pno brass
558 DX7-TX #12 House organ 1, 2, 3, Jazz organ 1, 2, 3, bad ass organ, fb farfisa organ
559 DX7-TX #13 small pipe organ, mid pipe organ, big pipe organ, soft pipe organ, sitar, guitar acoustic, banjo, golden sitar
560 DX7-TX #14 Funk synth 2, 3, synfeed, dx7 worm lead, huff talk
562 DX7-TX #16 Male voice synth, racing dx, water synth, ocean waves
563 DX7-TX #17 Synth bass #2, schmooh, electric organ #8, soft koto, solo violen, strings #2
564 DX7-TX #18 Horn, trumpet, low strings, sound track strings, piano, grand piano, flute
565 DX7-TX #19 Vibraphone #2, #3, temple gong, hard drum, clock tick, alarm dx, ugly machine, sine sub wave 566 DX7-TX #20 Solid bass, upright bass, frettless bass, flap bass, syn bass 2, 3, 4, marimba 2
567 DX7-TX #21 Synth harmonica, n search of lead, syn bell, electric bass 3, rubber bass
568 DX7-TX #22 Low string 2, orchestra, pizzicato 1, 2, flute 2, pan flute, mellow flute
569 DX7-TX #23 vibra pan strings, plain violens, rainy day strings, arp type st, d-50 type, cello 1, ambient
570 DX7-TX #24 Circus time organ, celeste dx, huff brass, perc brass, perc brass synth rise, hard brass 3, 4
572 DX7-TX #26 Synth clav 1, fuzz clav, perc clav, velocity clav, harpsicord 2
573 DX7-TX #27 Clav 2, clav 3, mute clav, rat dist kik, rat dist kick
574 DX7-TX #28 Storm 2, wind bell, smash, fuzz guitar
575 DX7-TX #29 Heavy pan synth, marimba, elec bass 2, snare, ride, tom, mars to midi, syn brass, storm 1
576 DX7-TX #30 Bells, harp, steel drums, low strings 2
577 DX7-TX #31 Koto saporo, dx clavinet, harpsicord, smadat-u-syn, harmonica, tympani
578 DX7-TX #32 Oboe 2, bassoon, reed, harmonica 2, 3, wonder harmonica, sax dx 1, 2
579 DX7-TX #33 Piccolo, oboe, clarinet, clocken spiel, vibraphone, xylophone, zither
580 DX7-TX #34 Horn low, whistle, zing plop, metal, funk synth, voices
584 Moog Synth & Leads Midimoog lead, muchkin talk, echo me lead, loony leads, ocilate organ, soft brassy, rap electro siren, phazing moog
586 JV 1080 #2 Old skool rhodes, sticky rhodes, wide strings, emotion pad, fuzzy strings, juno strings
590 JV 1080 #6 Euro House Hi bass, euro tick bass, ah sub, acid line, tb303 auto, velocity tek
591 JV 1080 #7 Brass Majestic, two trumpets, voluntar, trump section, muted 1, 2, trump #2, brass
592 JV 1080 #8 Pads Warm pad, poly synth, space vox, metal pad, halo pad
593 JV 1080 #9 Pads #2 Sweep pad, sound track, cystal bell, atmosphers
594 JV 1080 #10 Pads & Gtrs Harmonics, muted gtr, clean guitar, jazz gtr, steel gtr, nylon gtr, goblin pad, brightness pad
595 JV 1080 #11 Pads #3 Real deep strings, gigantalog, pulse width modulation strings, jv warmth, orbit pad
596 JV 1080 #12 Pads #4 Pulsify pad, greek power, pop pad 1, pop pad 2
598 JV 1080 #14 Pads #6 Heirborne pad, hush pad, jet pad 1, jet pad 2
599 JV 1080 #15 Phaze pad, phaze strings, hammer bell, pick it, impact vox, intentions, analog seq, tek solo
600 JV 1080 #16 Organs Organ 1, 2, 3, church organ, reed organ
605 Scary Rap Horns horn, riff, strings scary, found dead body, echo horns 1-3
611 Rap Rhodes 2 Cycled wha, bellish, riff run, wha wha, brighter, off rap, mid range, ping fade, harpish, effected, full tone, love goes rhodes

TB-303 Sounds & Loops
Disk #, Disk Name, Disk Description
609 TB-303 & House Organ TB303 1-6 bass synths, B3 organ #1, B3 5th organ, famouse house organ
A-001 TB-303 Loops (303 loops @ 132 bpm act 1, act 2, bass SD1, stack sound, wave out, Phzer+rvb 01 (FX) setting, Phased out (FX))
A-002 TB-303 Loops 2 (303 loops @ 126 bpm act 6, act 7, bass SD2, Juno Q-chirp)
A-006 TB-303 Loops 6 (303 loops @ 126 bpm act 4, act 5, bass sound, loop 9 @ 134, Flanged out (FX))
A-007 TB-303 Loops 7 (303 loops @ 132 bpm alternate 1, 2, 3, Dry bass sound)
A-008 TB-303 Loops 8 (303 loops @ 126 bpm act 8, act 9, bass sound 9, bass blurb, Gated Fever (FX))
A-010 TB-303 Loops 10 (303 loops @ 134 bpm act 12, 13, 16, (aprox 3000 blocks)
396 House Kit 3 (2 bass, 7 leads, 2 fx, 4 kik, 2 snrs)
397 House Kit 4 (9 leads, 2 hits, electro beep, anotweek, cymrev, perc, clap, kik, 2 snr, sub bass, crowd sample)
398 House Kit 5 (2 kiks, 3 claps, snr, 5 synths, horn, FX, perc., horn hit, nye 2X2, QR flute)
399 House Drums & Kit (strictly kik, sndfac drums, sub bass, maraca, 5 snare, dance kit, 5 kik, 6 snr, 4 hh, 4 hh, Moo bell, shaker, snap, clap)
400 House Hits & Syns (2X2 House ++, JB is alive, Mirim hit 1,2, real string, wo-we 3 bass, trick organ, PNO + 73, grovy organ)
401 House Effects (3 Record Scratches, Phone beeps, 3 oh my god syns, whea-h, 2X 2X my my)
403 Tribal Techno Drums (10 kicks, 9 snrs, 5 tribal perc., low bass, grind cym., snap, perc hit, 4 house kiks)
499 - 909 Freaked & Tweaked (11 kiks, 4 snr, 2 claps, ride, rim shot, 3 toms, 2 closed hh, 3 open hats)
500 House Dance Techno Kit (22 kiks, snr, 2 hh, open hat (909), TB303 bass, 140 bpm instabeat)
504 Elec Hits 2 (Ensoniq hit, orch hit, mercy hit, fat-tek-hit, 2 gtr hits, end w/drum hit, 2 patch hit, X-fat h-i-t, siren synth, move it kik)
527 Techno/House Synths Baso syn, tekno bass, electro velo, big analog bass, jungle sub-bass, hse piano synth, house obo synth, juno strings, rubber bass
582 House Delight 4 house sounds, jungle snars, sad house bell, rain forest drums
601 Orbiting Synths 1 Realize, dance tracks, vocalee-ahh, bass synth, golden pad, dance synth 4, simpler organ
602 Orbiting Synths 2 Tomohidro, fat sub, bass + blip, bad dream, xelight, alien organ, organ day - Top of Page

Bass
Disk #, Disk Name, Disk Description
387 Ton o' bass ( rap bass, porknu bass, full of bs, dre type bs, e coast, reemer bass, old jupiter, hi sting, rhodes, stacato hvn, porno ch)
388 Homemade Bass (raga bass 1, 2, tx81z moog bass, syn dre bass, rap record bs, bs run down, new street bs, low freaker, warm square, hemroid bs, old skool drums, d loops 2@88 bpm)
490 Moog Prodigy Bass (Old skool bass, analog bass, new kraft bass, square bass, sync off bass, prick bass, rap bass)
491 Roland SH101 Bass (80's bass, fat house bass, electric bass, space age bass, acoustic-ee bass, 242 bass, big bass, talking bass, alien bass, what da bass, 10 total)
494 Electric Bass Guitar Plus more (Electrik bass 1, 2, Juno 106 bottom bass #2, Tinking strings, Broun kik, 2 snr, hh, ride, brn lil horn, bed sqweek fx, cassette tape load & start))
583 Juno 106 Rap bass Dark bass, buzzing bass, old time bass, filter bass, sub drop bass, pipe-analog-bass, planet midi
587 JV 1080 #3 Bass 1 Slap bass 1-4, synth bass, tick bass, house bass, mondo bass
588 JV 1080 #4 Bass 2 Analog click, bass in face, sh101, super jupiter bass, octane bass, hugo bass, multi bass, moist bass
589 JV 1080 #5 Bass 3 Brite low bass, untamed bass, rubber bass, st bass, s. wonder bass, deep bass, super JX bass, with red bass - Top of Page
362 East Coast Drums + (5 kiks, 5 snrs, 1 big boom, 2 hh, 2 drum loops,1 bass woo,)
363 Flava Drums (6 kiks, 3 snrs, 2 hh, perc, 1 drum loop, ear fx, fatold bass, sub bass,napi horn, mac ear drums, introp sound)
364 Slow Rap Drums (1 boom, 2 kiks, 4 snrs, 3 hh, 2 triangles, ride, 1 shaker, 2 loops)
365 Distorto Drums (2 loops, 2 kicks, 4 snrs, 2 hh)
366 G Funk Sounds (bass nasty, punch, humina, dre in stein, 6 trk, spliff, vintage, lawnmower, chordy rhodes, dr dre string, horn slur, rap rhodes,low joe bass, underground bass, sir funk bass)
367 Strictly Street (9 kiks, 12 snrs, clap, hh, deal bass, sin bass, octo ray, 2 r pads)
369 Dry Dope Drums (7 kiks, 12 snares, 2 hh, 1 rim, bass smoof)
370 Mo Rap & R&B (2 loops, 6 kicks, 7 snares, rim, 2 hh, ride)
371 Mo Stuff (4 kicks, 6 snares, sable bass, low rap bass, r&b bass)
372 Show You Right (2 kiks, 1 cym, 2 snr, 2 loops, 1 scratch, dre bass, retro bass, slow horn) 373 Crazy Drums (6 kiks, 2 booms, 6 snrs, 2 hh, 1 drum loop, raptlc horn, 2 sax, lil wha)
375 Blunted Kit (kick, boom, 2 hh, 2 snr, cow, clave, cymb, loops 85, rhodey single, blunted bass, dre lead, digable bass, deadly bass)
376 DX-100 Drums (3 kiks, 4 snrs, clap, cymbal, tympani, clock, heifer bell, tubular bell, smash, alarm)
420 Mirage drums 1-2 (4 kiks, 5 snr, 3 hh, 2 oh, 2 toms, agogo, timb, pata, tamborine, cow, shaker, mute bongo, shaker, talking drum)
421 Mirage drums 3-4 (5 kiks, 1 boom, 5 snr, tom, clap, cow, pipe, pop, low perc, timble, hh, oh, wood, 2 mouth harp, industrial bass, upright bass)
422 Kawai R50e drums (3 kik, 3 snr, clap, hh, ohh, rim, orch hit, 3 toms, 3 e toms, rezo, crash, tympani, 2 elec bass, brass hit, strings hit)
423 QR-10 Drums + Latin (kik, 4 snr, 5 hh, clap, 4 toms, rim, tamb, ride, crash, elec piano, 14 latin perc sounds)
424 Techstar E-drums (kik, snr, 4 toms, synth, 3 perc, 4 claps, feable hh, oh, cymbal)
425 TR-909 & 808 (909 - 4 kik, 3 snr, rim, clap, hh, ohh, crash, ride, toms 808 - kik, boom, 3 snr, rim, clap, crash, 4 toms, cow, shaker, clave, bongo, conga) Insta beats
426 Funky Live Kit (1 drum loop, 2 kik, 5 snr, 2 hh, ride, crash, 3 toms) Insta beats
427 Live Drums #2 (2 kik, 5 snr, 4 rides, 1 hh, 1 cymbal)
428 Old Skool Drums (rap kik 1,2, snare can, flat snr, 2 live toms, DDR tom, Simmons Elec tom 1-3, SP rototom 1,2, Tom tom 1-5, crash #2, 505 crash) Insta beats
430 Miami Bass Kit (Miami bass, terror boom, jazzy snazzy bass, org flav, choad jaz bass, wet clav, jazznote gtr, low noize, 2 hh, 5 snr, voice, siren, whistle)
431 Branded Set (Nasty bass, punch pno bass, brandy set kit, 3 kik, 3 snr, hh, boom, loop, dog shaker, shaker 2, jingle bells, roady getmdrink, pipe string)
436 Snares Again Sam (2 dyno snr, rim verber, clap snr, 3 ringy snares, 4 snareverb, 2 crack cuts, 5 rap me up snares)
440 Snares + (Zeplin snare, 2 military snare rolls, 16 punchy snares, military snare)
441 Percussion & Clap Trap (2 tamborene loops, 2 tamb samples, 2 agogo bell loops, 5 sleigh bell loops, 6 simmons old Clap Trap samples)
442 Perc - Kit (Tympani, tabla, PE snares, booker snares, 7 congas, 7 snares)
446 Cymbals 2 (3 rides, 1 crash, china, dark crash)
447 Cymbals 3 (1 china, muted crash, 14" crash, 18" crash, splash, 12" hi crash)
448 Cymbals 4 (China #2, trashy crashy, hi bonger, tin-ee crash, 16" thin, 16" crash, linn crash)
449 Toms 2-4 (little elec, buddy rich, big elec, roto tom, 3 floor toms, add-one, one-hi, dyno tom 1-4, rowdy tom, murshki tom, sledge 1-3, tom 10)
450 Toms 5-6 (room tom 1-3, 8 hard toms, w/effects, 3 simmons toms, phil tom, kate tom, classic toms)
451 Cymbals #5 (Hi crash, mid crash, ride by, ride cym S.Dog, China type crash)
452 Hi Hats + (1 foot, 3 closed, 5 med open, open hh, 1 open hat long, stick hits, 5 latin phish)
453 Tribal Perc. (Log drum, wood dip, choke1, 2, metal barrel, metal drum, 3 tribal perc, 2 mouth perc, clap, 3 cans falling, 3 metal bangs)
454 Timbale + perc. (9 timbales, 2 snaps, 13 bongos, 1 talking drum) 1 instabeat
455 Percussion disk (Mark tree 1, 2, Industrial perc 1-13, pricky wood, hi ring, mouth harp, anklungs, ben hit, marimba, kalimba, xylophone)
456 X-otic Percussion (Bali Bell, WoodBlck, 5 cowbells, sticks, duck call, jingle bell, tone bottles 1-6, 2 scratches, 3 castenets, DLK-tun, quijada, timbale)
457 X-otic Percussion 2 (Flexatone 1, 2, noismaker 1, 2, 2 finger cymbals, 2 claves, 3 woodblocks, 1 cowbell)
458 African Perc + (hh, bongo, fish, shaker, 3 woodclogers, hand hit 1, 2, 2 loud bongos, 2 cymbals, 3 analog bongos, 2 snr, sleighbells loop, + Funk drum kit - 6 snr, 3 kiks, 3 hi hats) 1 latin instabeat & 1 funk beat.
459 Oriental Perc (Gamellan 1, 2, Bamboo hit 1, 2, vallaphone, antique cymbal)
460 Oriental Perc 2 (ATG bell, "Deyo", maducine, chap, sidnap, nam, tablnal, tabl gee, tunel sah, taka dal, dah, dam (wooden instuments)
461 Perc & Whistles (SP quito, whistle 1-4, tympani, gong 1, 2, tymp 2, temple block 1-4, wood block 1-4, agogo 1, 2, brake drum, click, swiss bell, flexatone, rasp, castenet, cuica 1, 2, gravel shake, tympani 3)
462 Cowbells + (2 island bells, 10 cowbells, 8 claves, 1 dyno crash)
463 Bells + Perc (3 muted triangles, 3 open triangles, pipe 1, 2, dyno bell 1, 2, metal shot, metal plate, anvil 1-4, synclavier bell 1-3, chimgliss TR-727)
464 Tabla + Shaker (7 sleigh bells, 4 tablas, wood shaker, woven basket, paper mache shake)
467 Rap Percussion (hat 1, linn tamb, sidestick, linn 9000 hat, zymox tamb, cube hat, scratch, cabasa, tri, revs fx, wood block, tamb, bell, zibe, scratch, click, crack, metal hit, chnk snr, plop, big bell, cocto, rap hit, dinger, rakim's hat, snap)
468 Rap Indus Perc (Radio hit, white noise, backward snr, wosh 1, 2, table hit, hh, hh2, backward sim, swish snr, motor, vocoder hit, smacky hit, rap hit, gun hit, vox shk, army gt, glass bell)
470 SP1200 Rap Drums (3 kiks, 8 snr, rim shot, 2 hi hats, 2 perc., 4 electric toms, 4 acous. toms, guitar byte) house kit too!
471 Ruff-Chest Set (7 hh, ride, 2 boom, 5 kiks, 6 snr, 1 rim, startrek fx, 100 beats per minute loop)
472 Phatvibes drums (808 low drum, boom, loop 98 bpm, kik 1-7, smack 1-3, hallow snr, hard snr 1-6, funny snr 1-3, triangle, hi hat closed 1, 2, hi hat open 1, 2)
473 Live kit 3 + shake (kik, 2 snr, 2 rim, tom, 4 beads in basket, 1 beads loop, wood peble shaker, chicken shake)
474 Ballad Set 2 (3 snr, sticks, alesis kik, M1 kik 1-3, 3 M1 snrs, 2 closed hh, 2 open hh, rap snr, short noise, ballad snr, cut snr, chicken shaker 2, fish, wood, "huh") 5 instabeats
475 Raw 100% Unda kit (11 kiks, boom, 4 snr, 2 closed hh, 2 open hh, grainy ride, unda bass, poler rhodes, metal eerie, air growl fx)
476 Cool Fat Smack (3 kiks, 3 hh, clap verb, gtr echo, tri, 2 bass bends, hip hop bass, reverse snr, LL hit, small shaker, rhodes, e coast bass)
499 909 Freaked & Tweaked (11 kiks, 4 snr, 2 claps, ride, rim shot, 3 toms, 2 closed hh, 3 open hats)
500 House Dance Techno Kit (22 kiks, snr, 2 hh, open hat (909), TB303 bass, 140 bpm instabeat)
603 Orbiting Euro House Drums 3 kicks, boom, 7 snares, hh, ohh, shaker, ride, crash, organ
604 Orbiting Rap Drums 10 kicks, 1 snr, 4 hh, shaker, quijeda, crowd, hit, hornz
614 Back in the day Drums 7 kiks, 9 snares, 3 claps, rim, tom, 4 hh, shaker bright, revese drum, old skl loop, black bass 3, synth bright, 1 insta beat
615 Live & Flat drums 6 kiks, 7 snares, boom, 3 opn hh, 4 clsd hh, 3 rides, clap, perc snd
616 Dog Pound Drums 4 kicks, 9 snares, clap, 6 hi hats, doggy bass, solid bass, gun bass, black bass, filter bass, smoof bass, attack bass, boben, doggy lead, LFO lead
619 Hip Hop and R&B (4 hh, real time, 20 snrs, 5 kicks, 3 hypes, shaker processed through SP1200)
620 Hip Hop & Old School (11 kicks, 16 snrs, 4 hh, 2 hypes Linn II)
621 Half Rap and R&B (3 hhs, long open hh, 4 snrs, 2 rims, 3 kicks, 2 rides, D's boom of doom, tamb, 90 BPM live loop)
622 Extra Stuff (5 hh, 7 snrs, real rim, 3 kicks, verb snap, wet fish, wet claps, dry clap, phone line ring, tamb, star trek fx)
623 All True "G" Set (7 kicks, 17 snrs, 4 hhs, screach, whawha, drum fill, dog shaker, horn)
624 Various R&B and Rap Stuff (5hh, 13 snrs, 3 hypes, 11 kicks)
625 Linn I & II Soundchips (2 claps, 5 hh, 4 kicks, 2 toms, snap, rim, 2 tamb, scratch ray, 2 hypes, cricket, bass note, 2 shakers 3 triagles, whisp down, reverse, water drop, flatulant drum)
626 Extra Stuff (hh, 13 hypes, 6 snrs, 6 kicks, clank, rezzo, tick, tamb, 808 ride, reverse, "go") www.midimark.com (internet website)
627 Hip Hop drums (plain kik, right on snr, sp12 snare, cut-n snr, mo smack snr, total of 9 snrs, nice foot, heavy kik, real foot, not true boom, rap kik 1, 2, layer me kik, potent kik, kickn air, unda kik 2, 3, old school kik, smack fo real, hh realy doe, revese roll, short cl hh, open mid, flacid snr)
628 Spiked up R&B Hip Hop (Clap gate, bottom kik, attak kik, stank clap, eq hh, verb perc, lilol rev, light eq snr, full punch snr, lid kik, kicken verb, spike kik, right on hh, hh w/verb, hiped hh, smoken snr, gtr dit, friday kik, snp snr, plain full kik, jazz smack, hh cl/open, piano crackln, bass o'nutin, sax, bell wird, long tone, dirty snr, dirty kik, gated kik, hh open, mid)
629 Mo Old Skool Hip Hop 808 (low end kik, bass note, rap rhods, open close hh, bump, mo bump, well snr, nice 808, snr 1339, tamb, u kik, layerd kik, grit smtn snd, crazy smack, layd black boom, raprsnar, mo old kik, dirty rap snr, analogkik, 80's clapr, spkrmover, grung hip snr, hip kik 55, rap rb smaker, d black ride, nice kik, stereo clap, slosed, med & open hh 69)
630 New & Old Hip Hop Multi Coast (open hh, opp hh, rap riff gtr, triangle lng, low voc, bell, tight snr, & kik, smk snr, bumon kik, weak hh, kik around, short stuck, weak snr, horn dit, cabas shkr, clsd anlog hh, tamb, kikdawest, tingy snr, nuff snr, really hat, rap snr 1, 2, 3, ride rushn, 3 mo kiks & snrs)
631 To Da Curb G-set (11 snares, 10 kiks like power R kelly & wutang, D Blaks boom 10, half boom, D's Rhod, foot closed, mid, & open hh)
632 Eerie & Evil (98 bpm loop, unda beat, 809 kik, grity foot, rap kik 19, snr, shoad snr, wutang pno, grity bass, craped oh hh, rhods 2, freq kik, street hh, & open, redn ride, teddy crisp snr, evil horn, noname hype, ex G foot, shaker 33 unda line tone)
633 Creepin drums (creep snr 1, 2, 3, 4, kik 2, 3, 4 boom short, tlc smack, water kik, hh open, closed, dot snr, boom dat, bump hump, d's snr, witch kik 1, 2, high boom, rev, 100 bpm 1/2 loop, tlc horn, creep horn, bas note, D-rhods)
634 Mackin Flava (3 sp1200 kiks, 1200 snr, loops, 5 otha snares, slow grind kik, grind noiz, barney mlr lfo, ride 3, Sleigbell, horn, vibra lick, 3 hh, da boom)
635 West Coast Bluntz (muffled kik, & snr, duck kik & snr, cabasa 2, ride cym hi, tamborine, ride 16, boom room, gtr twang, dipn horn, 3 mo snares, hh, kik)
636 Urban, R&B, Rap (anbient kik, sold snr, sticky, ridn hi cym, subway kik & snr, boom 1 & 2, kik class, mid snr, hh, freak clap, pno 1, 2, bass, rhodes)
637 Twisted Style (Nas kik 1, 2, snappy sn, boom 1,2, vintage hh, ohh, street hat, ride, big snr, gtr loop, tremelo rhods, gritty kik, street bass, live foot, wha)
638 Murder Death Row disk (Roland kik, sp1200 smack, hh 1-4, dre kik, dmx snr, rides, snr echo, big clap, 32 samples in all)
639 Underground & Evil Style (booty kik, kik w/tone, bass note, puck stick, hollow snr, sizz snr, dookie riff, stoped snr, homeb kik, snr, dit bell, stack snr, mo kik, 2nd kik, 3rd kik, hi eq'd snr, wha screach, nuface clsd hh, nu foot, no open hat, hi end ride, street tri, wutang pno, evil rhodes, unda bass, rec popen)
640 Kost 2 Kost (Beefytits bass, ren snr, air grind, smak lords b, kik o lords, low filt kik, short kik, low kik, east side snr, stack snr 2, rapper kik, pop freq kik, jazz shrt bass, hype horn, old orch hype, halloween hype, silly hat, pedal open, open short hh, sharp hat, true pedal hat, shaker faker, ride glide, D's rhodes)
641 Multi-Style kit (massive kik, jam snr, dry stick, 606 snr, tamberee, hi eq tamb, phil, boom kik, knockout kik, -snr, raga snr, compress snr, skweel 1, 2, tick kik, rim rod, spike hh, old skl clap, hi pitch snr, snrosmack, hype wha, punch hype, pub'enema, conga, vibraslap,
642 Urb Puffn Bong Rippin Set (SP loop 85 bpm, unda tone, single jazz note, hi bongo, mid-, low-, crunch sp snr, lfo horn, sp 1200 kik, sp snr, light eq hh, stompen kik, bass of black, shaker, sharp hat, open hat, phat kik w/hiss)
643 Wu-Puss Chronical Set (chords eerie, dark bass, under tone, bookie snr, -kik, snr 2, kinda hat, dungee bong, wutang pno, punch kik, -snr, method hh, open hat, vinyl verb clap, kik methtang, to da stick snr, metal pipe verb, tru loud snr, -kik, haty shake, pno 1 hit)
644 Black Style Kelly Drums (1/2 gtr, snap snr, kiky kik, full D kik, bottums kik, not brite hh, sa-mack, eq hh, 808ish hat, open tri, clsd tri, jackish snr, cabasa 1/2, stereo air puck, kelly kik, supafunk snr, stereo grit funk snr, puch kik, street bass 187, rev gtr, 555 kik, snap tri, homemade boom, jaz brush, rim flat, snap dry, tam boring, gtr wha wha 107)
645 Live Garage (eq hat, live foot, old skool, proc bump, clap inda day, live noise snr, opn hat, clsd hat, snr 1, punchy kik, ping tone snr, litl flam kik, 83 bpm
646 100% Underground (9 kiks, 3 snr speaker flub, boom, 5 hh, roll rhodes, misplaced bass, dirty ride, metal evil sound, 70's breather kik) 562 699-0095 www.midimark.com
647 Smooth Guitar (6 gtr riffs, k bass, k pop bass, long tri, bell, tight snr, tamb, 808 hh, 3 kik, smack, shaker, basket ball snr, ride rushin, nuffin snr, hh, rim)
648 70's & 80's Set (kik, snr, verb kik, snr, hat, fat full snr, crack, x-low boom, flange snr, cry gtr, wood smack, bright rim, bumps kik, hat 4 show, hat verb)
649 70's & 80's #2 (8 kiks, 7 snrs, 2 old skool claps, ride high, 4 hi-hats, rhodes roy, hype horn, 80's bass note, low boom, hi eq'd hh #2)
653 Half Jode ice half rap (7 kiks, 6 snr, 4 hh, tamborine, stick, cym, rec pop, scracth 1, 2, scrach intro, stop sound) - Top of Page

Drum Loops
Disk #, Disk Name, Disk Description
477 Street Loops (from ss001, 2 kiks, 4 snrs, scratching, 3 hypes fx sounds)
478 Street Loops 2 (from ss002, 5 loops, 2 kiks, 3 snrs, 2 hypes fx sounds)
479 Jacked up Loops (from ss003, 3 loops @ 104 bpm, 2 kiks, boom, snr, horn riff, shaker)
480 From da Unda loops (5 dope ass drum loops, 84, 91.5, 98, 95, 97 bpm loops)
502 House Beats 2 (135 swing, 140 bpm loop, 140 swing loop, 150 hard house)
613 Skooly D Beat & Drums 4 kiks, 2 snr, 1 clap, hh, crash, ride, computer noise, 2 skratches, 1 dope beat
- Top of Page
FX - Effects
Disk #, Disk Name, Disk Description
379 D's Guns + (loading, cocking, shooting 6 guns, 2 machine guns)
404 Sound FX (Slide whistle, 2 rhythm slides, toy lazars, bombs away, bell, alarm, 2 lazar guns, kaboom)
405 Sound FX (Dogs, siren cop, off. phone, horn rave, large syn, acid rise, hitfall, monty py ah)
406 Police Talk (Walkeetalkie noise, one, suspect, hall justice, what happens now, dangerous, all night, several people shot)
507 Sound FX (River water, 4 metal noise hits, 1 glass ping, porcelin shiver, X-plosive)
509 Sound FX (Air raid siren, army vocals, 2 glass breaks, 1 crash, 1 cannon, 1 explosion)
510 Sound FX (AK47 gun, shot gun blast, ricochet, rock cocaine, face hit, come on, damit, drugs, oh lord, low water bell)
511 Space Continueum (Roland sh-101 - computer 70's, atmoshperic, ufo fly by, giant disk)
513 Moog Space (Multi-bt syn, ambient syn, sunrise, snakes, cosmic flies, fiber flubber, bell tone bass, 2 space xplosions)
514 Juno 106 Analog FX 1 (Wind via Juno 106, smaller wind, sci-fi rise, steller fly by)
516 Juno 106 Analog FX 3 (Rupaul lazar, I luv-u snfx, kick sub bass kit, alien rez syn, spacey xylo, mars pond)
519 Sound FX (background noise, finger cymbal, air conditioner, paper, small fire, long cymbal, 3 closed cymbal, machine noise)
521 Sound FX (Hands rubing, drop'n stuff, house tom, horn phuny, prc pno strg)
522 Sound FX (Rattle shake, maracas, 2 house kiks, water drop hse, hit *ed*)
526 Strictly Tekno (Strictly tekno syn, fat whell synx, tek-rez-kut, dark drop, pain in the, slow riser, juno bell, darling bass, alien-ray, saw tooth)
607 Industrial sounds (Tek chorus, 4 industrial loops 135 bpm, snare, bass drop, analog perc.)
610 Phone effects (Dial tone, ring tone, phone on, key buttons, operator voices 1, 2, none connect, busy signal)
A-012 SH-101 Trance (Lazar shots, razor bomb, cleaning motor, cyberdroid die) A-013 SH-101 Effects (Helicopter-a-cumin, heli-a-flyen, bombs away)
A-014 SH-101 X-plosive (Analog-xplosion, 2 more explosions, thunder sh101) A-015 SH-101 Mutant (Mutant panic - - long sound)
A-019 Roland MC-202 #3 (Tripness, gigantor synth, truble mmp, engine start)
A-021 Roland MC-202 #5 (Rave bounce, ufo kum-n-go, motor shut down, alien drum)
A-023 Rolnad MC-202 #7 (MC bass mmp, hi lazar falls, vapor shot, fat lazar gun)

Guitars
Disk #, Disk Name, Disk Description
377 Guitar Falls (scary G, porno wha, gtr fall echos, sea echo, barny mlr bass, stoopdog bass, wow wee echo, drums & loops)
493 Sexy Guitars (2 sexy gtrs, 1 elephant, 1 old funk loop, 1 monster, 2 rock me gtrs)
606 Funky Ass guitar sampler Acoustic funk loop, straight up wha wha, bluesy funk loop, girl laugh, hip funk beat 110 bpm.
650 Smooth Guitar & Beats #3 (6 wha-whas, shrt chord, dit, muted, jazz twang, 3 note falls, raken it, slow rev gtr, kik, 2 snr, shabasa, rev cymball, old hh)
651 Smooth Guitar #4 (fast wha, rhoadds, cry wha, bass slide, shrt rhds, 5 gtrs, open hat, clsd hat, smacker snr, klappa, stacked kik, spank snr, tick, og clap)
652 Smooth Guitar #5 (kik, snr, rim, opn hh, clsd hh, smth gtr, jazz, chord, rake, hi wha, long fall, air rake,jz single, chord 2, 3, wha rake fall, cls fall, o rake)
654 Funky Ass Guitar 2 - Disk 1 (ATnT sound, doeing, 2 wha loops, 1 rocken loop)
656 Funky Ass Guitar 3 - Disk 1 (JB loop, chucka gip, low string loop, hi trippen, lush wha)

Vocals
Disk #, Disk Name, Disk Description
660 Vocal Bytes 2.0 (Uh, owwww, don't stop, oh ho, uhhuh, ohh yeah)
661 Vocal Bytes 2.1 (male vocals - Born to love, reach out, through the night, I know you're scared, I oh, u got to believe)
662 Vocal Bytes 2.3 (female vocals - Oh who, come & take it, oh hee, male - knocken down the door, eehoo, respect me.)
663 Vocal Bytes 2.4 (male - peace love & happiness, rainbow in the distance, it's all good, hoke pee ka, freeks come out tonight, huh)
664 Vocal Bytes 2.5 (female - kick da beat, I'm n heaven, take me up, take me away, fantasy, you show me how to love)
666 Vocal Bytes 2.7 (male - Y'all can come in now, o.k., here we go, blazen, boo ya heyah, sica mai ya mai ya)
667 Vocal Bytes 2.8 (male - subharmonic transmitters, uh yeah check this out, the dope shit, dog (vocoder) dj rock it, kick out the funk)
668 Vocal Bytes 2.9 (vocoder - just the dope shit 4 your brain, 2 chords, woowh, wow wow wigidy wigidy wow wow)
669 Talkbox VB2 - Disk 1 (worm-ee sound, funk loop, don't stop me baby, baby, I am so high)

HOME - TOP OF PAGE - EPS Disk List #1 - CD Roms - CD Rom Drives - EPS List #3
---
HOME ¥ TOP OF PAGE ¥ REVIEWS ¥ PDF FILES ¥ Orderform ¥ EPS List #3