Ensoniq Main Page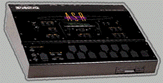 Goto Disklist #1 ---- Goto Disklist #2 ---- Goto Disklist #3 <---new disks!

Each disk list contains aprox. 300 floppy disk selections to choose from.
Each complete disk list is available on 1 cd-rom called "Powerhouse" Vol. 1, 2 or 3 respectively.

Super Deal: Get Powerhouse 1 and 2 and a 4x cd-rom drive for only $499.00 + shipping.
This is over 600 megs of sounds and a drive for super low price.