Used Equipment For Sale
---
Matrix 6-R (rackmount midi synth) Fat analog sounds. Classic and Vintage synth.

$399 shipping included.
---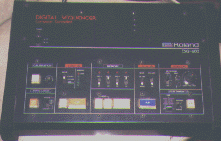 Roland CSQ600 control voltage sequencer. No manual. $499 NOW REDUCED $399 Shipping included.
---

Roland SBX-10 syncronization box. No manual. For use with TB303. $299
---
Home - Order form - Mail in money order for the full amount. Insured shipping in the continental U.S.A. is included.
all items come with a 90-day warranty